Parked at the parking lot in Blackwell which is 1.8 miles from the southern terminus of the trail located at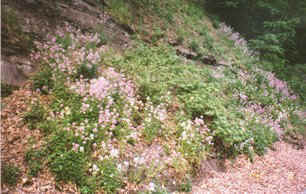 Rattlesnake Rock. The rail trail is an old railroad bed that runs through the PA Grand Canyon. It was resurfaced to be used as a biking/hiking trail and has a very low grade.

Approximately 3 miles into the trail, you'll be able to spot an eagles nest which is located across the creek. Camping is not permitted in this area to preserve the eagle sanctuary. Around 9 miles we came into the picnic area. There is a road access into this area using a parallel road to the rail trail.

The camp site has picnic tables and facilities. It's a good docking spot for canoes looking for a place to camp overnight.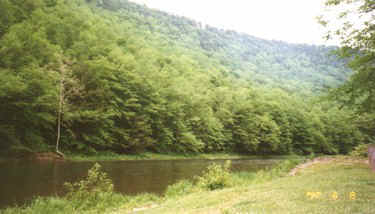 All along the trail you will find folks hopping off their bikes and making their way to the creeks' edge to wade in the water and cool off. There are several private cabins located along the trail.
At 18 miles we reached the northern terminus of the trail at Ansonia. Rumor had it that there was ice cream to be found somewhere in the area so we went looking. We were on a mission...we took a left onto the road and at the stop sign we turned right onto Rt. 6.
About a half a mile down the highway we found a cute little ice cream stand! They had one of my favorite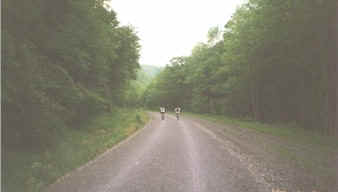 flavors...chocolate malt!!!
We then headed back along the highway and instead of picking up the trail at the northern terminus we went up the highway a short distance and turned right into the Darling Run access area.

We peddled up the mountain before we entered the parking area. Here we picked up the trail again and headed back down the rail trail. It's a good docking spot for canoes looking for a place to camp overnight.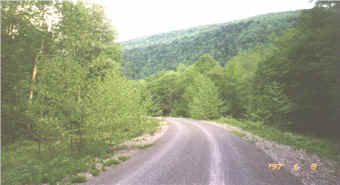 We stopped at the Tiadaghton picnic area and took a break at a picnic table (actually sprawled out and rested our sore butts) and enjoyed the cool breeze coming off Pine Creek. Several tents were already set up for the night.
We headed down towards the eagles area where we met up with some folks we knew. After chatting a bit we continued on down the trail and back to the vehicle.

All-in-all it took about 5 hours. What a way to spend a day off! It was nice to see lots of other folks on the trail enjoying a beautiful summer day!