We parked our car in Farrandsville and walked 1.5 miles up the road to the southern terminus of the Donut Hole Trail on the Hazard Road.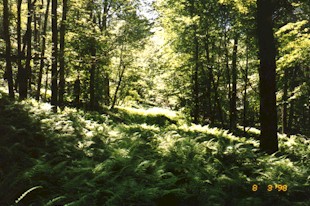 The first 4 miles were a gradual climb of 800 ft. up the mountain along the Fravel Trail to the Carrier Road. Through this section we walked into a bees nest - unfortunately Dave wasn't so lucky but I outran them!
The DHT continued across the Carrier Road passing a very nice vista looking out over the Susquehanna River. We then crossed several tributaries of Ferney Run until intersecting the Oak Ridge Road - this section was about 4 miles long.

We took a left on the Oak Ridge Road going only about a 100 yards before turning left onto the Ferney Run Trail.