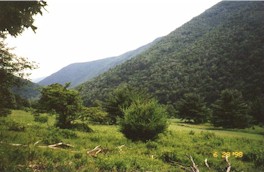 We started our hike by crossing a former railroad grade and climbing a ledge. We crossed Wolf Run where we signed a trail register and proceeded up up the run. We crossed Wolf Run several more times.

We reached an old logging camp and found the remains of an old camp stove. Then reached a hollow and our first vista which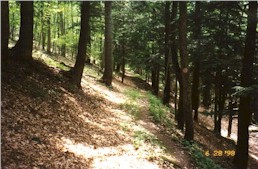 looked west over the top of Wolf Run and across Bonnell Run.

We went up the ridgeline and crossed into State Game Land 68 for a view of Beulahland. Then descended into Bonnell Run and crossed back into state forest land and into a small gorge.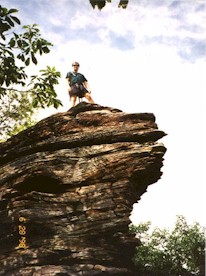 There was a small waterfall at the bottom of a steep descent to Bonnell Run. We then climbed gently to the edge of Clark's Pasture for a view down Pine Creek.
We then followed the field's edge to an old quarry road and began a serious climb to the ridge between Wolf Run and Pine Creek.

Along this stretch are three vistas of the area. We then descended on steep switchbacks before turning off the ridge into Wolf Run. We continued our descent which took us back to our vehicle.

The trail info stated it was to take 6 hours to complete - we did it in 4.25 hours! Humidity was low and there was a nice breeze - conditions were great! This was a very enjoyable hike!